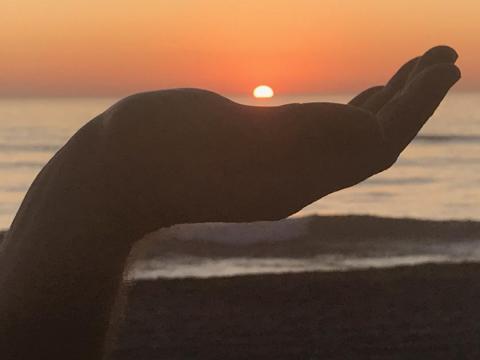 In the Fall of 2018, I started going to the beach on Sunday mornings. Sitting on a bench overlooking the ocean, I would have breakfast, feed the birds and then meditate. One day a man approached me and asked for help. He explained how he had no money and slept in his car at nights. From the following Sunday I started having breakfast with him as we looked at the ocean and talked about life and its many challenges.
With the onset of winter, taking cold showers at the beach was taking a toll on his health. I continued the help and gradually began to understand the root causes of his predicament.
Basically, he was homeless because he had no money. He had no money because he had no job. He had no job because he did not have proper education or mindset for a successful life.
He had no useful education, because his parents, though very much caring, did not have sufficient parenting skills to develop his capabilities. They were unable to instill in him what it takes to succeed in this competitive world. It was easier for him to identify with being a victim of inequities and negative childhood social experiences rather than to be the master of his own destiny.
I started to do all kinds of analysis and put together several flowcharts for finding a solution. I saw how each life is comprised of so many interdependent physical, mental and spiritual aspects, that it is difficult to succeed without a comprehensive and integrated plan. Solving such a huge problem was not going to be easy and was pretty much out of my hands.
About two weeks after having given up on any viable solution, something extraordinary happened. On Jan 17th, 2019, at 12:30 AM, I was awakened from sleep feeling very strange. I got up, had some water, walked around a bit while sensing something I had never felt before: as if I am in the room, but also somewhere else at the same time!
I went to bed, and as soon as I closed my eyes, I saw three skies, one within another. They had beautiful shimmering colors of pink, blue and green. These were no ordinary skies. They felt like eternity itself. I opened my eyes, and all was normal in the room. I closed my eyes, and again, there they were! It is not possible to describe "skies within skies" but I hope my words somehow depict what I was seeing and experiencing. I was able to focus on a particular sky to see and communicate with the beings who lived there.
For about two days, I existed in two dimensions, one here and another over there in the beautiful infinite expanses. During the next two weeks, before and during sleep, I would meet extraordinary people who are no longer living on Earth. These were great scientists, spiritual teachers and some, whom I did not know or recognize, and only met on the other side. The dialogues would go on for undefinable lengths of time and in various fields of knowledge.
I was shown incredible things as we discussed the human condition, our capabilities and what can be done to help. What was different with regards to communication there, was the lack of any language. There, meanings were transferred directly. Many ideas, models and inspirations poured into me during the weeks that followed. Everything around me could effortlessly trigger a solution or some sort of practical use. Then all the bits and pieces became integrated and formed a cohesive workflow. Beautiful metaphors presented themselves to make the "solution" be more tangible and pleasant. What I had tried to do with my eBook (Your Sky), had morphed into a graphical design and workflow to make human development be more effective and pleasant.
I understood then how everything that transpired in my life was so that this system could come into being. To have a guidance mechanism that functions as a source of information, life map and process for building capabilities and thereby fulfill our immense potential.
We are far greater than what we assume, think or imagine. Therefore, it is imperative that we go beyond assumptions, thoughts and imagination. Our true identity is absolute freedom, and it must be realized while we have the means to do so.